Varna Marianne Nielsen ( Greenland ) - (Go to the performance)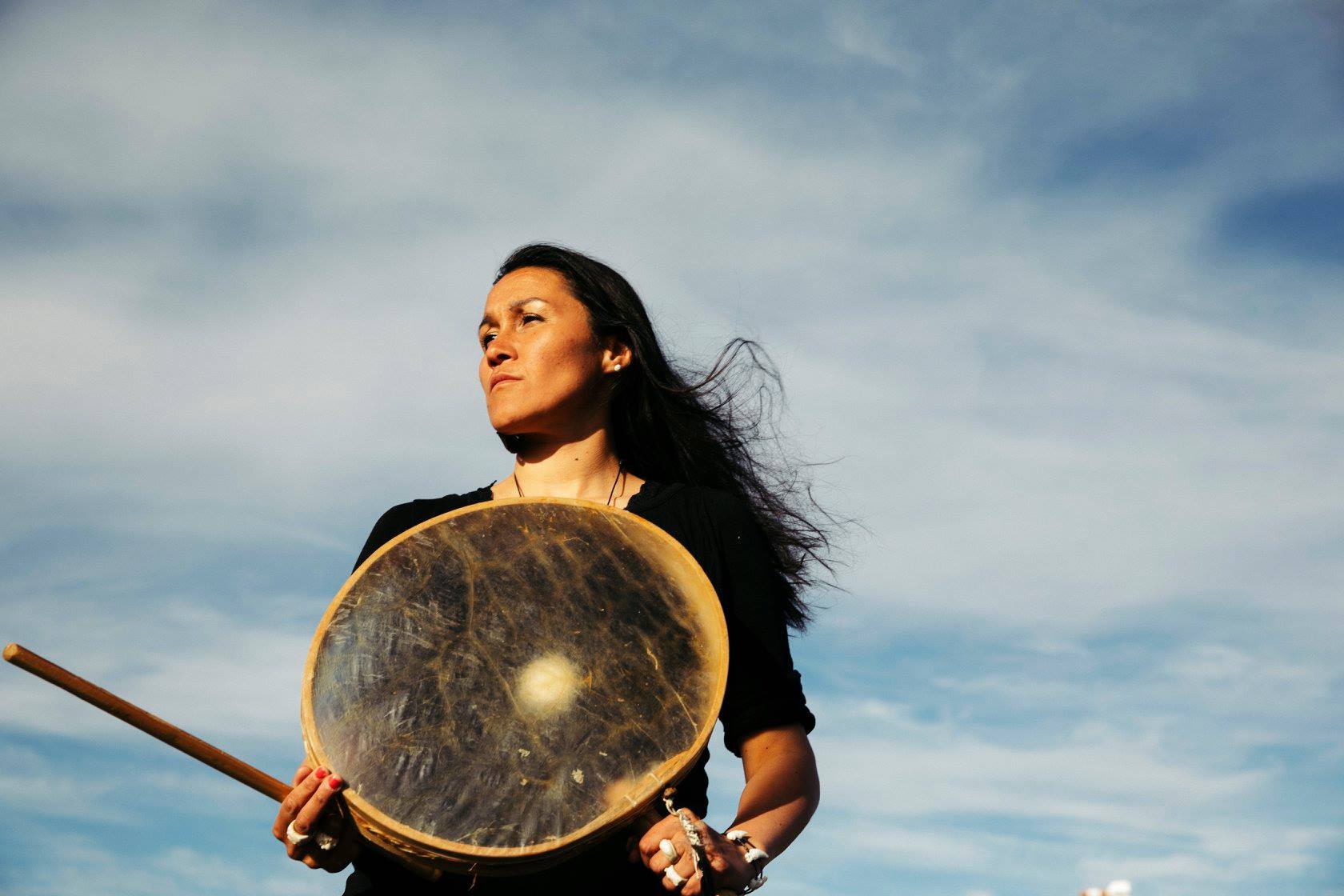 Varna Marianne Nielsen is a composer, singer songwriter, actor, singer, drum dancer and project manager.
She has her roots in East Greenland and her style is inspired by the old traditional East Greenlandic drum dance.
Her ancestors were a long line of well-known and respected drum dancers returning to the man and drummer Maratse.
Varna grew up in West Greenland, but was very aware of her ancestry
and this attention led her back to the elderly, who initiated her in the original songs.
Today she is the next in her family to continue this highly spiritual tradition,
which is one of Greenland's unique cultural heritage.
For her, it is extremely important to spread and preserve this precious cultural treasure, which is clearly in danger of shrinking.
Varna composes her own contemporary music and participates in many kinds of performances, concerts and events in the Arctics:
KNR TV: Aliikusiarfik, Nytårsshow år2000, Folk, jazz og blues festival 2002, Kangerlussuaq Festival 2003, Bluesfestival 2004 – Nuuk, 
Releasekoncert 2007 – Katuaq Nuuk, ,Tivoli, plænen, København 2008, ICC Koncert 2010, Akisuanerit festival Nuuk 2011,
Varna koncerter, Sisimiut, Ilulissat og Nuuk 2011, Nordic Islands musicfestival 2012, Vinter Jazz 2013 – København, 
Copenhagen Singersongwriters Festival 2013, Særlig invitation - trommedans for Kronprinseparret 2014, 
Jazz turne med Revé Bohéme 2014, Kalaallit Nunaanni Inngertartut isumasioqatigiinnersuat (arrangør) 2014,  
Nuuk Nordisk Festival 2015, Vestnordisk Råd, Færøerne: 2015, Arctic Winter Games 2016,  Varna Blues Koncert med Arnold Ludvig 2016,
Sverige Blues Festival 2016, The Blues – Nunatta Isiginnaartitsisarfia 2016, PACT Zollverein  2017 – Germany, Ruhrtriennale 2017 – Germany,
Diskoarts Festival 2017 - NorthGreenland Kampnagel 2017 – Nordwind (all the days of our lives)  -Germany, Spirito Del Pianeta 2018 -Italy,
Diskoarts Festival 2018 Arts residence – NorthGreenland, Arctic Circle,
Reykjavik, Iceland October 2018, Celebration of Icelands 100years sovereignity –
Ìslendigangögur sinfónísk sagnaskemmtun, Dec. 2018, Reykjavik, Iceland.
Board member Nordic House Feroe Islands 2017-2019. Member of the artist council, Disko Arts Festival 2018 -
Own releases: Varna "I wish" 2007 – In The House Records Kommende album: The Road.

www.varna6.webnode.dk