Koncerten Songs From My Body.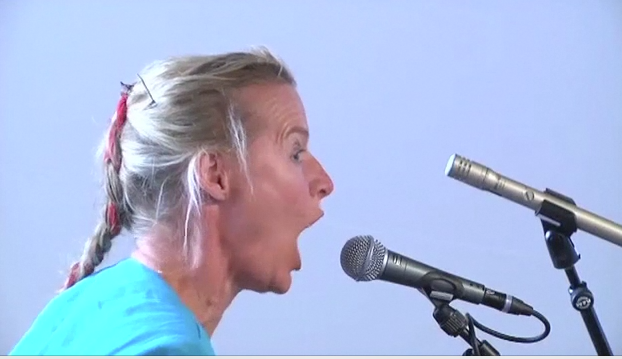 "Katrine Faber skaber ordløse sange og lydbilleder inspireret af kroppens landskaber
og landskabernes kroppe, Jordens krop.
I hendes musik er der dansende åndedræt  og hemmelige rytmer,
som bølger, banker , fortæller og kalder.
Musikken danser omkring små fortællinger om krop og liv,
død og erindring, natur og kraft, forvandlinger som sker igen og igen. 
Hun bruger den menneskelige stemme på alle mulige måder
og på sin helt egen måde
og synger om glemte forbindelser mellem mennesker, dyr og  naturen omkring os.
Det er et møde mellem komponerede sange og improvisation;
det er blødt og vildt og grimt og smukt og sjovt og sørgeligt og frem for alt : meget levende ! "
Varighed: fra 30 min -60 min.
Pris: 6000 kr exclusive transport.

The Concert: Songs from my Body.
"Katrine Faber creates wordless songs and soundscapes
inspired by the body's landscape and the bodies of the landscapes, the Earth's body.
In her music there are dancing breaths and secret rhythms,
like waves, knocking, telling and calling.
The music dances around small tales of body and life,
death and memory, nature and power,
births and transformations that happen again and again.
She uses the human voice in every way possible and in her very own way;
singing about forgotten or new connections
between people, animals and the nature around us.
It's a meeting between composed songs and improvisation;
and it is wild and gentle, ugly and beautiful
and funny and sad and above all: very much alive! "